Angel by Designer Skin Available at Tan in the Wild Oakville.
Do you love the color that you receive after tanning but find that the color does not last for a long period of time? If so then we have the product just for you! Designer Skin's Angel is a moisturizer that will preserve the longevity of your tan while keeping your skin fully hydrated and moisturized. With that being said however, in order to obtain the best results out of this product we recommend that you apply the moisturizer after washing as well as after every tanning session.
Angel has an intoxicating "kiwi Pear" scent that will leave you feeling fresh all day!  In addition, angel has a creamy soft texture which makes it super easy to apply and will not leave you feeling greasy or sticky.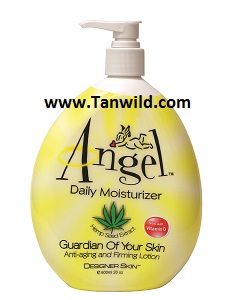 Angel Moisturizer 
Silky-soft, sensuous skin. Velvety to the touch. Angel Daily Moisturizer is indeed heaven-sent. Unlike other moisturizers, this Guardian of Your Skin also protects, firms and nourishes your most precious asset… your skin. Potent anti-aging and firming ingredients visibly improve skin's firmness and texture. Hemp Seed Oil provides the ultimate moisturization. So spread your wings and get ready to fly. This Angel is going to nourish your body and soul.
Vitamin D acts as a powerful antioxidant to protect and soothe skin
Phytoage and Alpha Lipoic Acid: provide powerful anti-aging benefits
White Birch Extract and Copper PCA: visibly improve skins firmness and texture
Looking for a place to buy Designer Skin's Angel? Well look no further.  We carry it here at Tan in the Wild located in Oakville, Ontario.
Call us to get yours today: 905-338-2700
New to Tan in the Wild ? Sign up on our VIP Customer list – get a FREE tanning session and great specials throughout the season.