Ergoline 880 Excellence High Performance Tanning Bed
Air Conditioning – Adjustable Facial Power – Comfort Lounge"
Treat Yourself To A Luxurious Tanning Experience!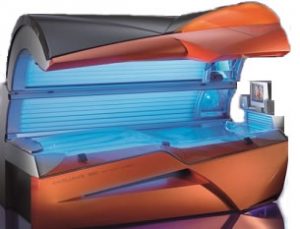 One of the worlds finest tanning beds the Ergoline Excellence 880 high intensity tanning bed makes an impression with it's eye catching new design and cutting edge technical innovation for 20% better tanning results then other Ergoline beds.
ULTRA PERFORMANCE FACIALS Features a new Ultra Performance Facial tanning system that combines optimized glass reflector and a specially coated filter glass that actually performs 35% better UV output then other Ergoline beds.
TEMPTRONIC AIR CONDITIONING The intelligent air conditioning system puts your comfort as its highest priority. The temptronic air conditioning system (an exclusive feature on the Ergoline Excellence series), allows you to adjust the temperature throughout your tanning session. The balanced distribution of air outlets in the head, body and foot zones ensure maximum air flow for your tanning comfort.
TANNING RELAXATION: BODY WAVE ACRYLIC The advanced body wave double-bend base acrylic takes the pressure off. Tanning in the Ergoline 880 is truly a relaxed and revitalizing experience like no other tanning beds.
BALANCED TAN TECHNOLOGY The Ergoline Excellence 880 satisfies the desire for an evenly balanced, full body tan. Using cutting edge computer simulations, the UV geometry of the Excellence 880 is perfectly tailored to the human body for optimal tanning results and comfort.
LEVEL 5 BUILDER TANNING BED – 12 Min Max